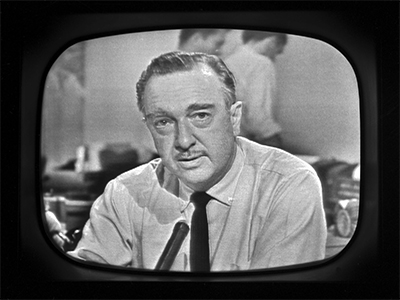 Walter Cronkite (1916 – 2009) telling America the president was dead – Nov. 22, 1963
My journey in broadcasting took an unusual turn in 1967. I'd been news director at my college radio station, a news writer for a small rock radio station in Lancaster, PA, and an anchor, reporter and occasional film processor for WLYH-TV in Lancaster. (Yes – I was a television anchor making the big bucks – $1.35 an hour – minimum wage in 1967.)
How I got to CBS in New York for the summer of 1967 as a management trainee will be the subject of another blog post. But what was significant were the people I met who influenced my life and the experience I gained which shaped my future even to the present moment.
From my parents' home in Queens, I would make my way by subway or car to the CBS Broadcast Center on 57th Street between 11th and 12th Avenues every morning around 7:30. I'd sit down in the company cafeteria and have coffee with Charles Kuralt and others who anchored the CBS Morning News. I would gape at Eric Sevareid – too star struck to have a conversation.
After work, I sat either in studio 31's control room watching Cronkite's news program unfold, or in the WCBS-TV control room while the hour long news with Jim Jensen made its way from script to air in an amazing bustle of producers, production assistants, directors, technical directors, projectionists, and tape operators.
I had some key accomplishments that summer. I produced a management study documenting how the network's broadcast of North American Soccer League games were eating into local broadcast time and revenue. The irony was that 7 years later I'd be producing soccer highlight films for NASL teams.
One week I filled in for the WCBS-TV traffic manager. I'm proud to say I rejected a Ty-d-Bowl TV commercial featuring a little guy in a little row boat being flushed down a toilet. "Bad taste" I told my colleagues. I was overruled by sales.
But the one single moment that stands out in my memory of a very memorable summer occurred in my first week. I was instructed to report to the CBS Television Stations Division headquarters on the 25th floor of Blackrock – the CBS office building at 51 West 52nd Street in Manhattan – a cab ride away.
I stood in front of the Broadcast center on the West Side of Manhattan, arm outstretched hailing a cab. The taxi pulled up and I began to open the door. A voice behind me spoke in clipped, authoritative, important, world shaking tones. It said "I think that's my cab." Walter Cronkite. Unmistakably Walter Cronkite. "Where are you going?" he asked. "Blackrock" I managed to squeak out. "So, am I – let's ride together."
I couldn't believe I was riding in the back seat of a New York City cab, at the age of 20, sitting next to the most revered individual in American Television Journalism – the man who inherited the mantle of Edward R. Murrow, and the man who 10 months later would return from Vietnam and tell us all that the government was lying to us about body counts and the war's progress much as Murrow told us the truth abut Joe McCarthy.
He asked me about my job and I told him I was a college student working as a management trainee for the summer. But I explained that news was my real goal. "What do you see yourself doing in news?" he asked. The answer was the kind of thing you can only say when you're 20 and life has no limits. "Actually, Walter" I said, "I want your job."
Graciously, he did not stop the cab and throw me out. Instead he offered advice. "Well, you need solid writing experience – newspaper, wire service – and you have to work out of town for at least 5 years." His answer was the advice of a journalist not a TV anchorman.
As best I could, I followed Walter's advice. I went back to Lancaster, worked for WSBA Radio in my senior year. And when the following summer I started my 6-year adventure at WCAU-TV, sports reporter Hugh Gannon assigned a nickname to me. He called me "Network."
Oh yes, Walter paid for the cab ride.