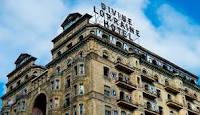 Shortly after we moved to our present digs in Center City, my wife and I followed up on a newspaper story that said we could take an architectural tour of the old Divine Lorraine Hotel. The abandoned building on North Broad was once a hotel to the famous and wealthy visiting Philadelphia. The nouveau riche of the industrial revolution made it a regular stop in the 1880's. The Reverend Major Jealous Divine (a name he gave himself), also called Father Divine, bought it 1948 and centered his International Peace Mission movement there. While the hotel was open to all races, mostly African American followers of Divine occupied its spaces. Men and women lived on separate floors. Modesty was encouraged. And Father Divine eventually called himself God.
In 2006, when Vicki and I visited the building, it was in severe disrepair, but architects and developers were making big plans. We toured the building, fascinated by moments in architectural time frozen in place. We visited the 10th floor ballroom where Father Divine broadcast and recorded his Sunday religious services. I sat down and played his sparkling white grand piano.
Before leaving, we stopped in what was left of the old hotel's restaurant and I was overcome by a feeling that I knew this place. It took me awhile to put it all together. I defamed this hotel and the International Peace Movement in a news story I wrote for Channel 10's 11 PM Sunday news, way back in 1969. I always thought it was Father Divine himself who called me right after that newscast. But it couldn't have been. He died 4 years earlier. Still, the threats of a curse on my life shouted over the phone were reminiscent of the legendary minister's back story. It was said that those who opposed his will and received his curse wouldn't live very long.  A state trooper in New York was said to be among those. His printed (in all capital letters) 3000-word curse on Sara Harris, an author who published a biography of Divine in 1953 is also the stuff of legend. He even cursed the entire New Jersey Turnpike after his entourage was ticketed once for speeding.
The infamous Jim Jones attempted to pick up the reins of Divine's International Peace Mission after Divine's death in 1965, and eventually moved his own cult to Guyana where it ended in a well-known mass suicide. Jones claimed Father Divine's spirit had entered his body. So exactly who it was yelling at me and cursing me for calling the Divine Lorraine a "…hotel for derelicts" remains unclear. Perhaps it was Jones or it might have been a disciple of Divine's working for Mrs. S. A. Divine who tried to keep the movement going on her own.
So, why did I disparage the old building? I was relatively new to Philadelphia, and working as a writer on the 11 PM news weekend shift, when the report of a fire at the Divine Lorraine came over the fire radio we kept in the newsroom at WCAU-TV. Weekend evening shifts were typically lonely postings. I called one of our more seasoned reporters and asked about the Divine Lorraine. That's where the term "…hotel for derelicts" came from.
The threatening caller told me my words were detrimental to the effort underway to support the lives of those who had chosen to live there and follow Divine's message. His voice was deep and sonorous and filled with a combination of anger and angst. He demanded an apology and a correction. Lawyers called station management Monday morning, and I was hauled up to a VP's office (Mel Levine) and asked to explain exactly how those words appeared on a teleprompter for our anchorman to read. That Monday night, John Facenda read the apology and correction. Since I suffered no ill effects, the apology and correction must have staved off the effects of any curse.
One further note to conclude this tale. In one of his first stories for ABC news, the late Bill Stewart, covered the mass suicide in Guyana where Jim Jones led his followers to their deaths as they drank poisoned Kool-Aid.  Bill Stewart was the weekend anchor who read my defamatory story.